Ah Houston, Texas.
This is the city where I was born and raised in. So I am very familiar with this area.
Houston which was named after former General Sam Houston is the fourth largest city in all of North America. It is also home to over 2 and a half million residents as well as being the most diverse city in America.
Because it is the most diverse city in America, you can expect to find all sorts of things to see and do here in this city.
For instance, we have Space Center Houston which is home to NASA where astronauts train their bodies and learn how to do complex flight controls together as well as many other things.
We also have many other interesting attractions that anybody who sees them will instantly fall in love with.
So if you are wondering what there is to do in the city of Houston, you are in luck.
Here are the top 37 things to do in Houston.
Things To Do In Houston Texas
Museum of Natural Science
The Houston Museum of Natural Science is one of the best museums in Texas. It has a huge collection of fossils, planetarium, gemstone collection, as well as many other antiques and interesting stuff that will keep you on your toes for hours on end.
They also constantly invite special guests who do special exhibitions for people to see.
One of my personal favorites is the butterfly dome where you can walk around and see all kinds of beautiful butterflies flying around the dome.
Children's Museum
The Houston Children's Museum is one of only 190 children museums in the United States whom were founded by a group of parents who wanted to raise early childhood development within the community.
Inside the museum, you'll be able to find all sorts of interesting exhibits and subjects that kids will love. From science to tech to history and culture, there is simply so much information here that even parents might learn a thing or two.
It's a great place to bring your family and kids to have fun and learn all sorts of interesting stuff.
The Health Museum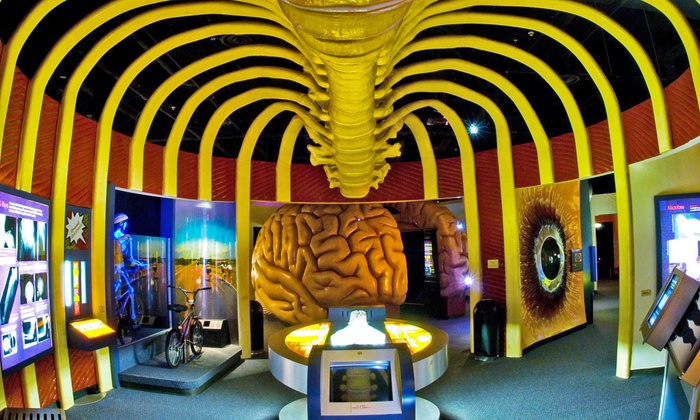 The Health Museum is a great place for all family and kids to come visit. They see over 180,000 visitors each year and teach them all sorts of interesting things.
One of the great things about this museum is that they have an excellent interactive health and science educational experiences. You can learn things ranging from the human body, organ dissections, and many other changing exhibits that happen all throughout the year.
Plus, for an additional cost, your kids can even visit the cell lab where they can practice and take part in some simple experiments.
Museum of Fine Arts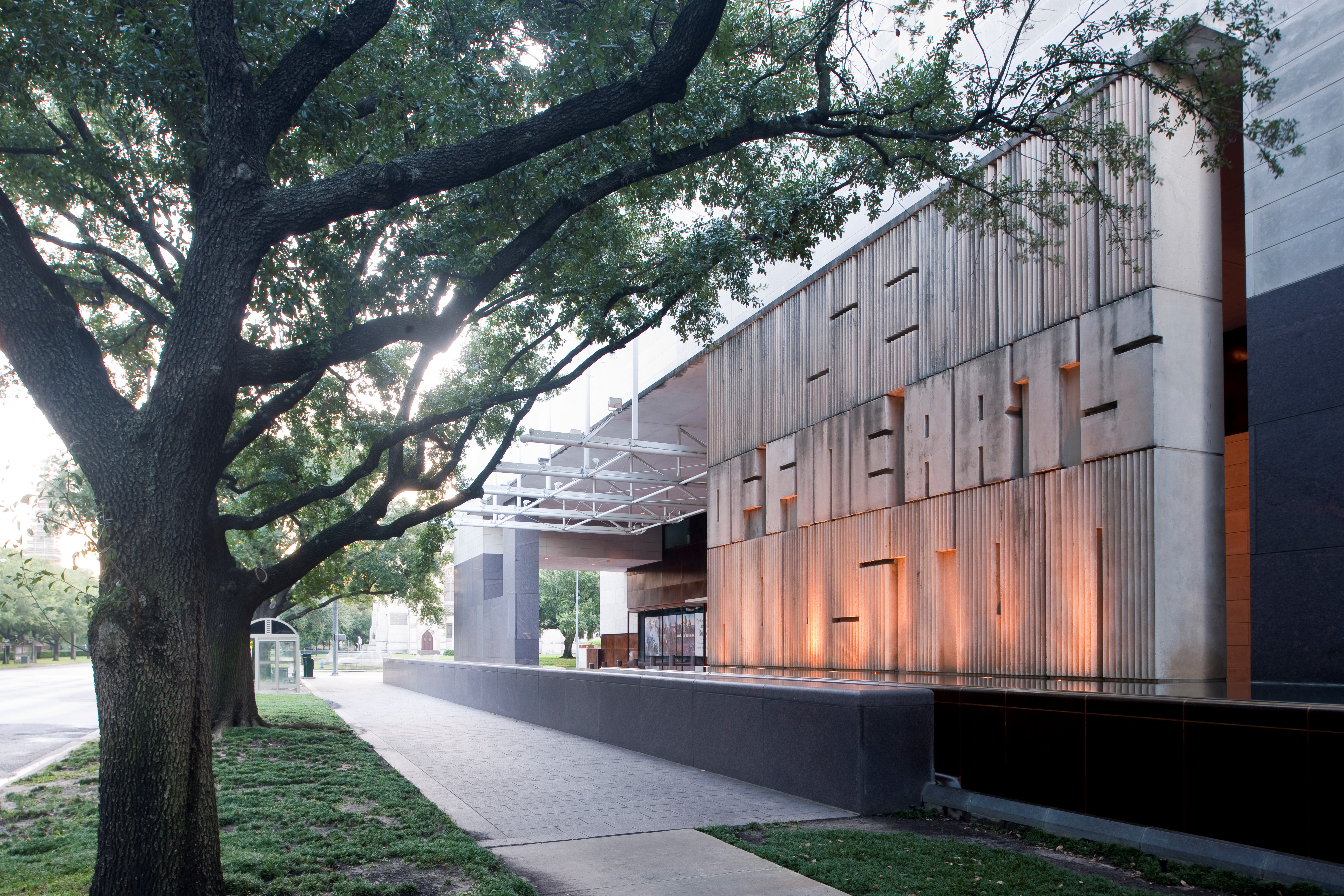 The Museum Of Fine Arts is one of the best places to see all things art. With collections that span over 6,000 years of history and with over 64,000 works from six continents, it is one of the biggest fine arts museum in all of Texas.
You can find treasures such as the Gleizes's La Femme, Memling's portrait, Monet's Water Lilies and an impressive amount of Roman period sculptures and paintings.
Definitely a great place to spend the afternoon browsing around art.
1940 Air Terminal Museum
If you love all things aviation, then this place is definitely the place where you have to visit.
The museum showcases a huge variety of aviation items, including Houston's own aviation history. It occupies the entire ground floor (with the renovation of the upper floors including the observation decks and tower cab pending) and holds many treasures from airlines such as the ticket desks for Braniff and Eastern Airlines and many more amazing displays of architecture and aviation from the past.
Eat Some Delicious BBQ
If you are ever in Texas, you know you must get some BBQ. After all, Texas knows BBQ. And Houston is no exception, as there are many different BBQ joints for you to try. From the likes of Killen's BBQ to Blood Bros BBQ or any other place that serves BBQ. You need to get yourself some BBQ and taste exactly how Texas BBQ is suppose to be.
Twilight Epiphany Skyspace
Located on Shepherd School of Music at Rice University, you'll be able to find the beautiful Twilight Ephiphany Skyspace. Designed by the amazing artist James Turrell, this acoustically engineered pyramidal structure is equipped with a LED light sequence that projects onto the roof and evokes the sun's arc. Visitors who come here are able to view magical performances of both light and sound which occurs at sunrise and sunset on select days.
Check Out Some Universities
The Universities in Houston are actually designed very nicely. With huge acres of land for you to roam around in with many sculptures and statues all around. It's the perfect place for you to relax and enjoy your day. For instance, at the University of Houston, experience visual and contemporary art exhibitions at the Blaffer Art Museum or you can enjoy performances at Cullen Performance Hall and the Moores Opera Center. Definitely something you should think about doing.
One of the best things you can do if you are visiting Houston for the first time is to take a picture with the famous graffiti wall. It represents Houston at its soul and is one of the most Instagrammable places in Houston.
Houston Rodeo
The Houston Rodeo is the largest rodeo of its kind in the entire United States. Tickets are really cheap and it allows you to do so many different things once inside. From petting animals, to buying delicious rodeo food, to even having fun at the amusement park, they have it all. Also, depending on what ticket you buy, you may even be allowed to go in to watch a concert that they have daily featuring a variety of celebrity guests who come and perform.
Buffalo Bayou Park Cistern
While formally a drinking water reservoir built in 1926, it has now become a work of art. Often times playing host to a series of art and light installations and guided meditations. Although you do need reservations to come in here, it is totally worth it.
Galveston Island
Located about 45 minutes to an hour away from Houston, Galveston Island is the premiere destination if you want to have some classic beach fun. Here you'll find things like a water park, theme park, restaurants, museums and many more that will keep you captivated for hours on end. It is a great place to be to have some fun and you will definitely not regret it.
Kemah Boardwalk
If you are tired of all the city life and want to have some fun, then I suggest to visit Kemah Boardwalk. It is a popular attraction that offers much to be desired. From amusement parks to restaurants to live entertainment and shops, there is so much for you to see and do here. You can easily spend an entire day here all while having a boat load of fun.
Visit Chinatown
Did you know that Houston's Chinatown is one of the best Chinatowns in all of the United States? It's true! In fact, the Chinatown in Houston is more like an Asiatown considering just how many ethnic groups are in this area. From Chinese to Vietnamese to Japanese to Korean and more, you can find them all here in this area. There are literally tons of restaurants and shops here for you to roam around and browse through. You'll never get tired of this place.
Try Out All The Foods Houston Has To Offer
Did you know that Houston is the most culturally diverse city in the United States? Here in this city, you can find all kinds of ethnic groups living here. So you know there will definitely be many different restaurants serving amazing food here. From Asian Food to Mexican Food to African Food and much more, Houston has it all! So definitely go give it a try.
Check Out The Historic 19th Street
An interesting place you might like is 19th street which is located in the heights. Its one of the coolest shopping districts in the Houston area as it is packed full of antique shops and galleries, thrift stores and boutiques, and cafes and restaurants. Roaming around this area is the perfect way to spend your day as there is so much to see and do. Plus occasionally there will also be special events here which you can attend.
Miller Outdoor Theater
One of the coolest things you can do for relaxation is to catch a free show here at the Miller Outdoor Theater. Located inside Hermann Park, this theater plays host to a variety of programmming shows each year, ranging from children's productions and a yearly Shakespeare Festival to performances from the Houston Ballet and popular concert artists. There aren't really many chairs here so instead, you should bring a blanket or fold-able chair to enjoy the day.
Space Center Houston
Space Center Houston is probably Houston's top attraction. It is home to more than 400 artifacts and pieces of history dealing with space travel. There are also a huge variety of both permanent and traveling exhibits as well as other displays relating to how the space programs worked.
You can even take a tour of the mission control room as well as getting a chance to see a real life space shuttle.
A great place to see how history was made in the past.
Discovery Green
Here in the middle of town lies one of the best public parks Houston has to offer. It is a 11.76 acre park that offers all sorts of amusing entertainment. From yoga classes to movie nights to even regular concerts. There is definitely something for everybody here in this park.
Not only that, but the park has a playground where kids can play as well as a huge area where people can go have picnics and play in the grass.
It's a great way to spend some time with the family and have some fun.
Downtown Aquarium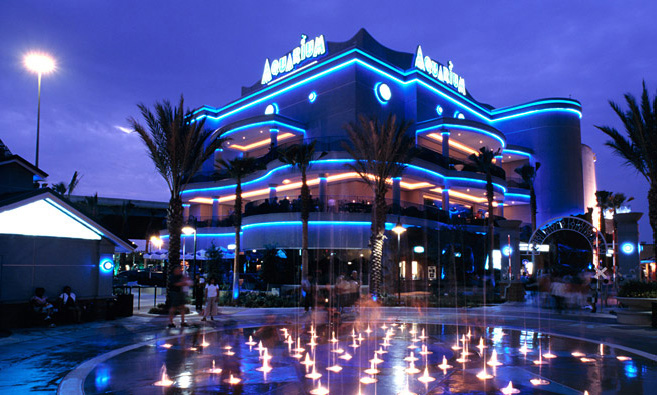 The Downtown Aquarium is a great place to take your family and kids to learn more about some awesome marine life. This six acre area houses a 500,000 gallon aquatic wonderland with over 200 species of exotic global animals. They even have some fun rides for the kids to enjoy like Frog Hopper to Shark Voyage and much more. Plus, its not just for the kids, there are certainly quite a few things for the adults as well like shopping, an upscale bar, full service restaurant, and other things too.
Overall it is a great attraction for the entire family to enjoy.
Minute Maid Park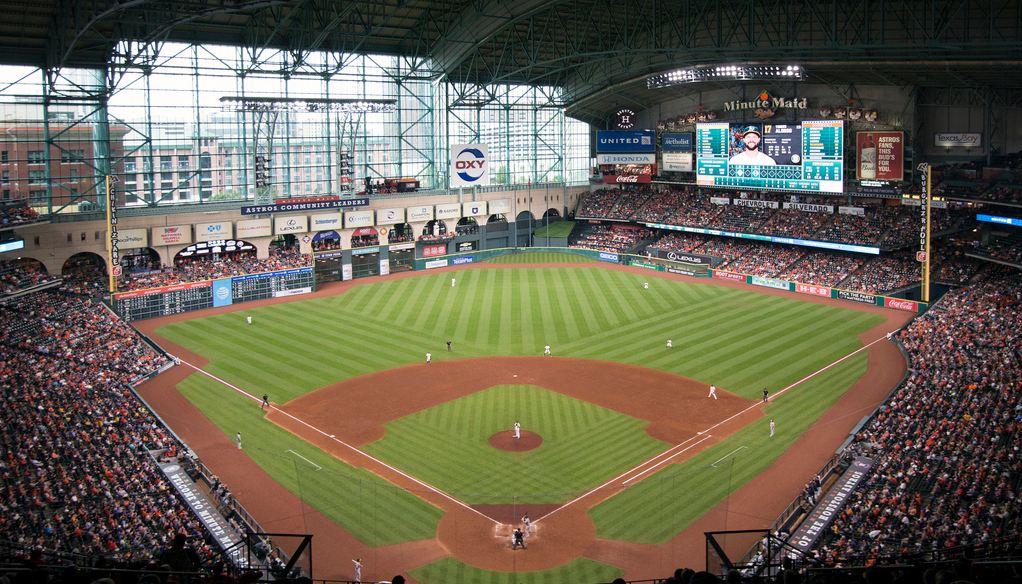 Minute Maid Park is home to one of the best Baseball teams in the USA,The Houston Astros. It is a great place to come visit and see some amazing baseball going around.
Plus, there is also a Happy Hour Beer outlet in Left Field with some great beer selections. As well as having plenty of food to choose from and delicious BBQ, this place is a great attraction for families alike to come have some fun.
Toyota Center
The Toyota Center is home to one of the best basketball teams in the NBA, the Houston Rockets. The center was named after a Japanese automobile manufacturer Toyota who paid about $100 million for the naming rights.
This beautiful arena has spacious seating for thousands of people as well as having clean facilities. It is a very popular place for locals to come and enjoy a game of basketball while having some fun cheering on the team.
The Galleria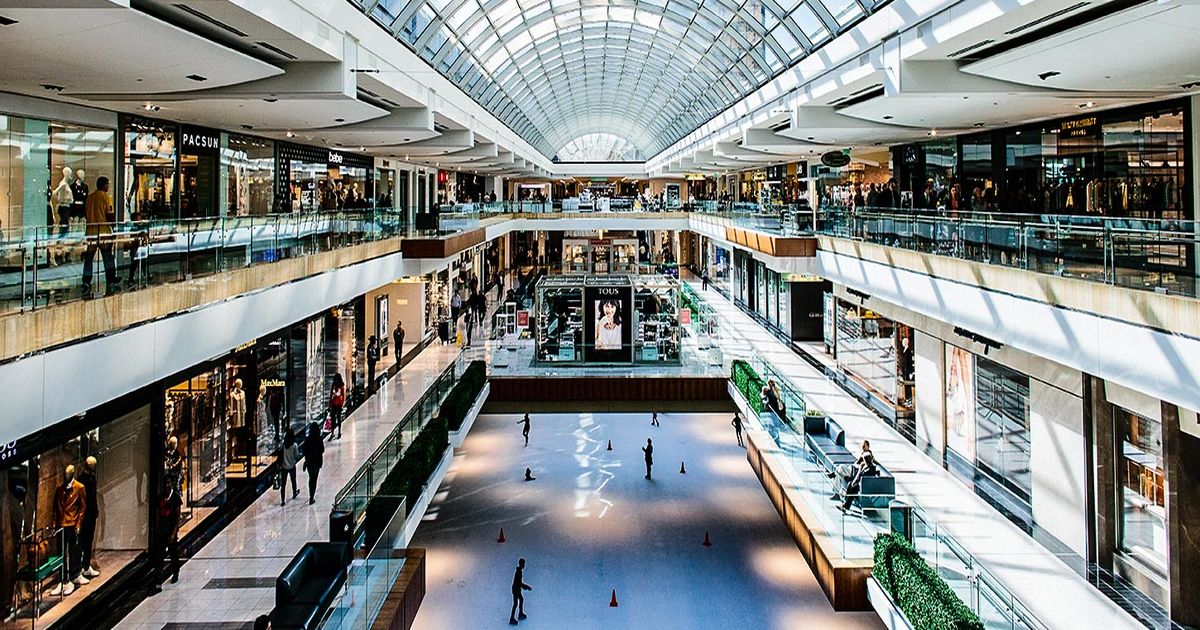 If you love to shop, then one place you definitely need to head over to is the Galleria. It is the largest mall in the state of Texas as well as being the 7th largest mall in the United States. It is currently home to over 400 high end stores with delicious restaurants and food outlets like the Cheesecake factory, Chilis, and much more located inside this building. There is even a full sized ice ring that lets people of all ages come and have some fun skating.
From Gucci to Prada to Louis Vuitton to Victoria Secret and much more, there is definitely something for everybody to enjoy.
Menil Campus
Menil Campus is an art museum located in Houston, Texas, inside a 30 acre neighborhood of art. Inside you'll find special exhibitions as well as permanent collections of all kinds of different art pieces. It also anchors a campus with three other museum buildings, 2 of which are dedicated to single artists "Cy Twombly and Dan Flavin", and another to some amazing year long installation projects.
Hines Waterwall Park
The Gerald D. Hines Waterwall Park is a fantastic place if you are looking for that beautiful backdrop for some pictures.
This park features a 64 ft tall semi circular fountain that re-circulates about 11,000 gallons per minute that falls down the structure's inner and outer walls.
Not only that, but this beautiful area is surrounded by plenty of oak trees which makes it a popular spot for locals to meet up and have some fun.
Hermann Park
Hermann Park is a beautiful park that spans about 445 acres large and consists of a bountiful assortment of entertainment: a golf course, an outdoor theater, a jogging track, a beautiful rose garden, picnic spaces, a butterfly exhibit, and even a museum.
It is a fantastic place for anybody looking to have some outdoor fun. From picnics to exercising to even playing around, there is definitely something for everybody here in this park.
Memorial Park
One of the coolest parks in the Houston area is located in Memorial, and it is called the Memorial Park. This park spans an impressive 1,466 acres and has a lot of things for you to see and do.
Known for its beautiful trails where people can go for a leisurely stroll, there are also softball fields, sand volleyball, tennis, and croquet courts, free space for pick-up flag football and soccer games, a driving range and 18-hole Memorial Park Golf Course, swimming lanes at the Memorial Park Fitness Center, and onsite burger joint, Becks Prime. Plus, they are still improving upon the park which means the future version of it will look even better than ever!
Buffalo Bayou Park
Buffalo Bayou Park is a huge park spanning about 124 acres wide full of spacious greens with amazing views of the Houston Skyline. It is a great place for walking, hiking, as well as having picnics. It even has an area for a dog park so that you can walk your best friend together in the sun.
Definitely a great place for family and kids alike who wants to be outside in the sun.
Hobby Center for the Performing Arts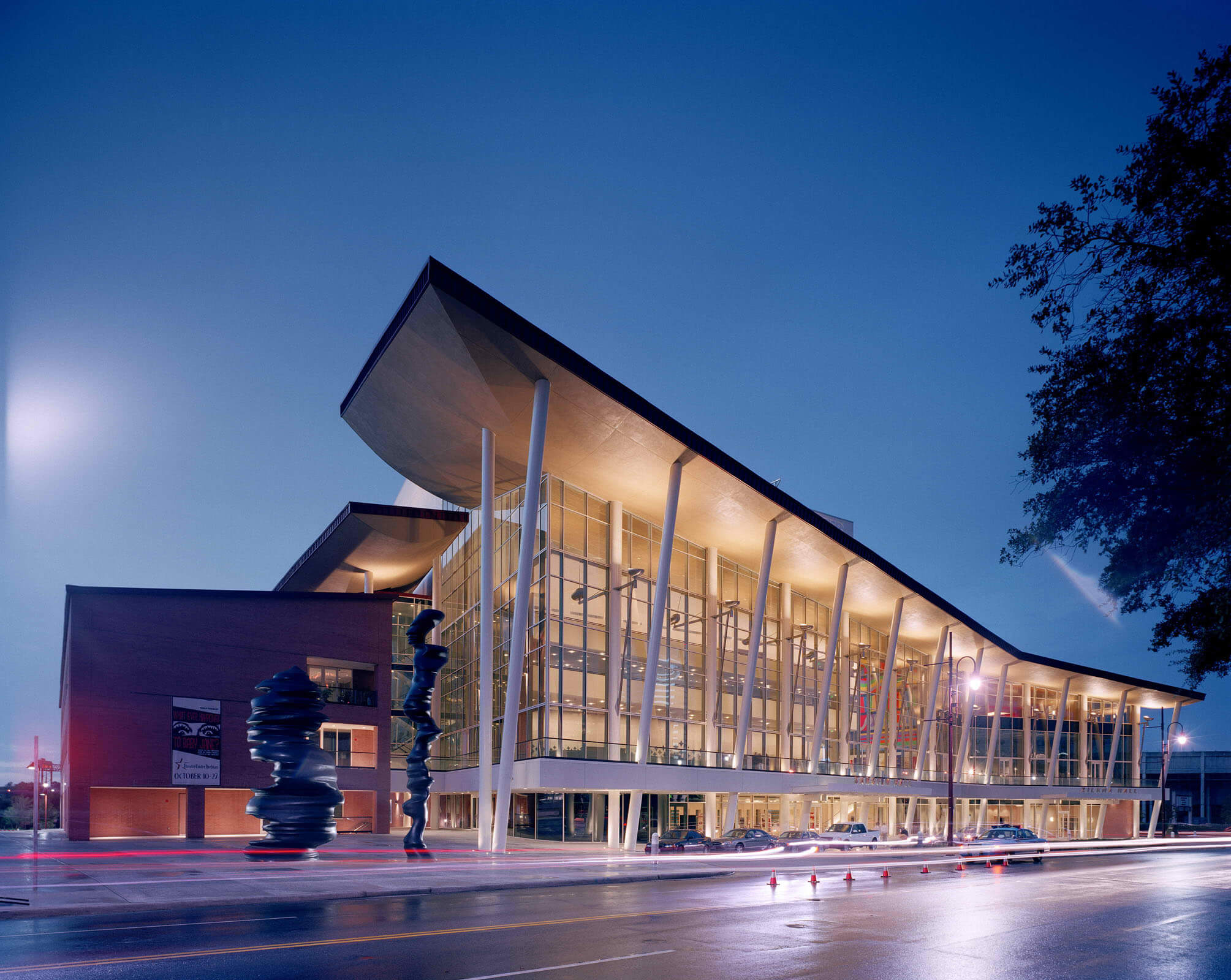 Opened in 2002, the Hobby Center for the Performing Arts is made up of 60 ft high glass walls that have stunning views of the city's skyscrapers. It is located on the edge of the theater district.
It is here where you can enjoy some wonderful shows and plays that are performed here. It is a great place to go as a family since there are often many children friendly shows here for you to see.
Saint Arnold Brewing Company
Saint Arnold Brewing Company is a fantastic place to try out some craft beer. It is the city's oldest craft brewery that is guaranteed to offer you an interesting and enjoyable time.
This facility does everything from brewing the beer to filtering the beer to even kegging and bottling it. The company brews several different beers, some seasonal and some available all year round, and can be found in grocery stores, liquor stores, bars and restaurants throughout Texas, Louisiana and Florida.
Visitors can even join a tour that will take you through the entire process and at the end, get to enjoy some tasty beer.
JPMorgan Chase Tower
If you want to see a stunning aerial view of the city, then there is no better place than the JP Morgan Chase Tower. This amazing tower stands at a staggering 1000 feet high and has the distinction of being the tallest building in Texas, the world's tallest five sided building, the 13th tallest building in the United States and the 79th tallest building in the world.
Visitors who come here can go on a free and quick ride up to the observation deck where you will be able to see some of the most beautiful views in all of Houston.
Houston Premium Outlets
Houston Premium Outlets is a shoppers dream come true. It is basically a place filled with all kinds of outlets that sell things for insanely cheap prices. It offers over 145 designer and name-brand outlet stores including Armani Outlet, Burberry, Nike, Kate Spade New York and Tory Burch and much more.
This is probably my most favorite place ever to do shopping as I can get quality goods at cheap and affordable prices.
So if you are ever in the need of buying new clothes or shoes, this is the place to visit.
Houston Zoo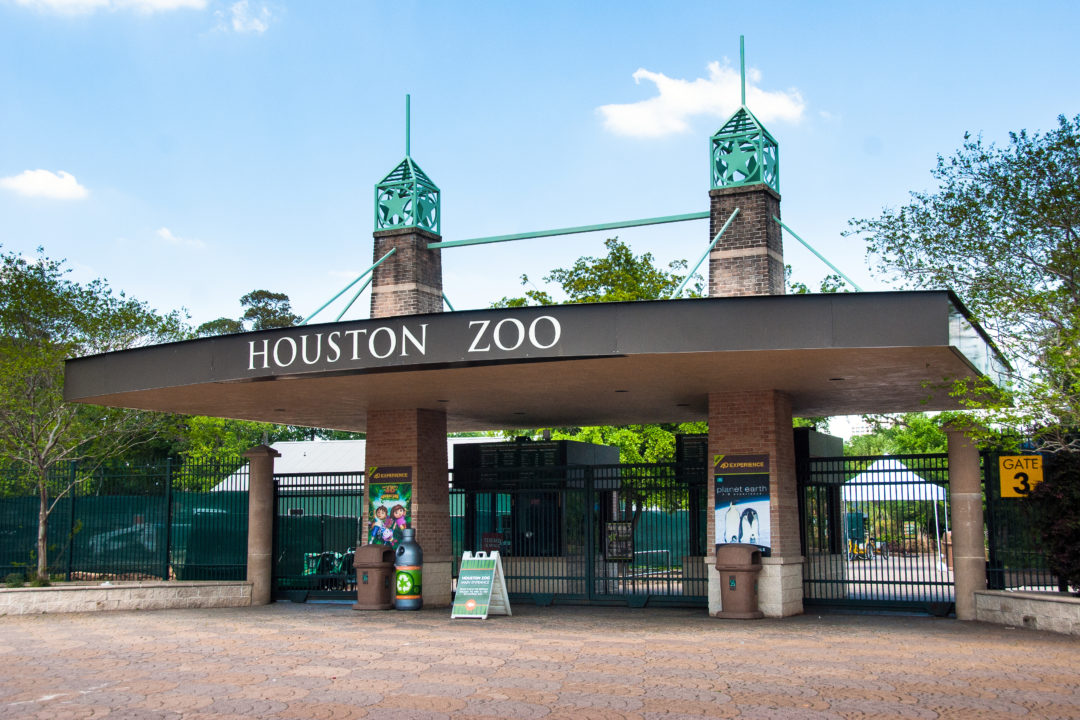 The Houston Zoo is a 55-acre zoological park located within Hermann Park in Houston, Texas, United States. The zoo houses over 6,000 animals from 900 species. It receives 2.1 million visitors each year and is the second most visited zoo in the United States.
If you are ever wanting a place to see some cool and amazing animals and learn about them, then this is definitely the place for you. Although I would avoid coming in the summer as that is when the weather get its hottest. But other than that, it is a fantastic place that anybody and everybody would enjoy.
Topgolf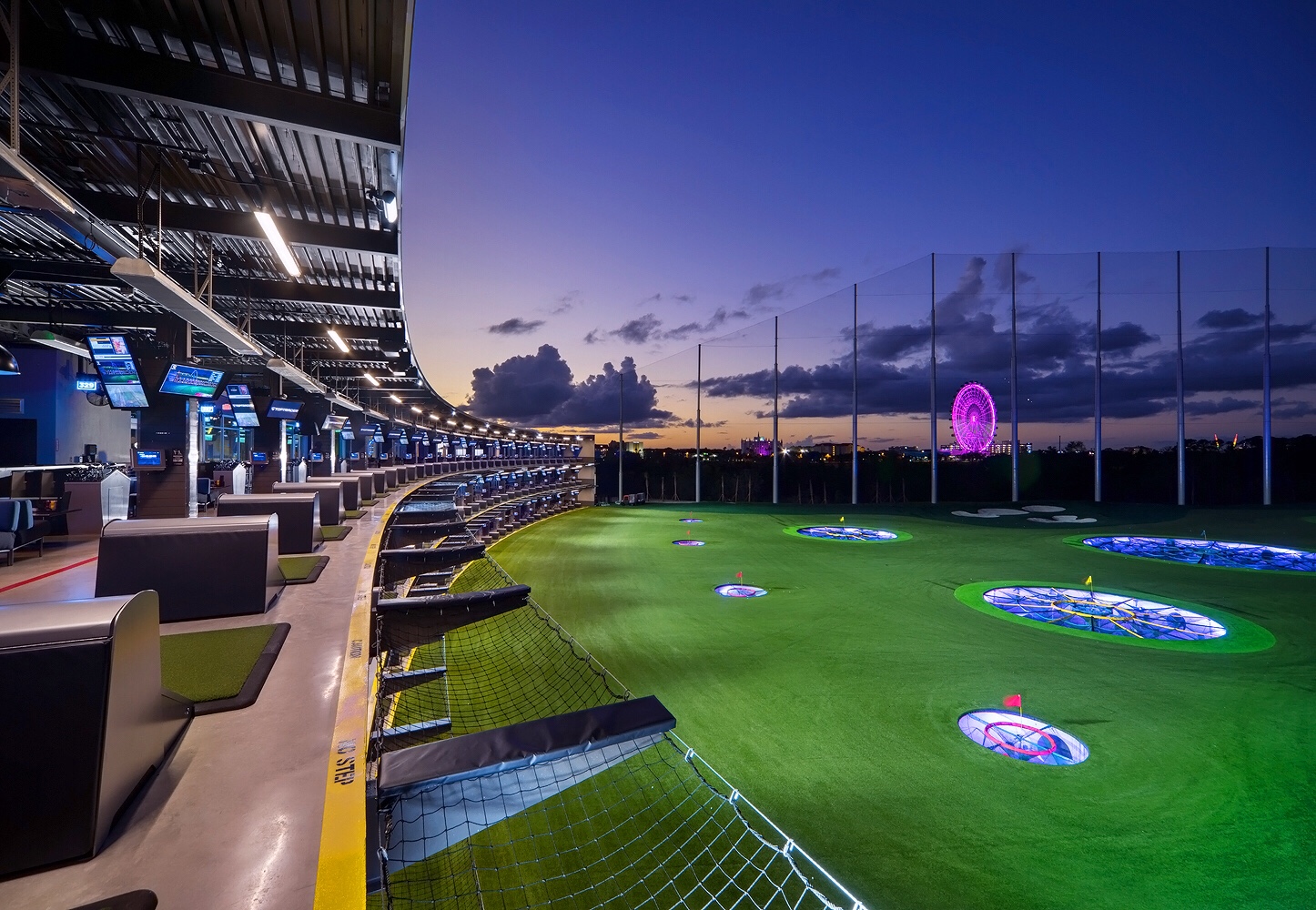 If you like golf, then you'll definitely like Topgolf. It is basically golf taken to a whole new level. It offers plenty of golf fun for people of all ages and skill levels. Basically you hit a golf ball that is micro chipped at targets on an outfield. After you had a fun game, you can see your stats on the state of the art electronic score board.
They even serve plenty of food and drinks so you can relax when its not your turn playing golf.
Definitely a fun and new experience that all people will enjoy.
Check Out The Farmers Market
What better thing to do than to wake up early and check out the local farmers market, which runs from 8am to about noon. Farmers Markets are great as they allow small local farms and business sell their things to a wider audience. Here you'll find tons of fresh and organic produce as well as cooked foods too that will make your belly scream in delight. Definitely the place to be when you are in the mood for some freshness.
Watch A Theater In Houston's Theater District
Located in Downtown, the beautiful Theater District features a variety of artistic performance venues, as well as bars, restaurants and family friendly attractions that are all within walking distance. Here you can enjoy performances from the Houston Ballet, Opera, Houston Symphony and much more from the performing arts. Definitely a great way to spend your day.
San Jacinto Monument
San Jacinto Monument is the tallest stone column memorial structure in the entire world. It stands at about 570 feet in to the air and topped with a 34 foot, 220 ton star. This monument was built to commemorate the legendary Battle of San Jacinto, which is the decisive battle of the Texas Revolution. Admission is free to view this monument and it will leave you starstruck by how amazing this structure really is.
_____
Overall, Houston is an amazing place to visit if you ever get a chance to visit.
There is simply so much to see and do here that it'll blow your mind away.
So hopefully this list was able to give you some ideas as for things to do in Houston Texas.
Also if you are going to be stopping by Houston anytime soon, you might be interested in some of my other posts:
Or for a list of more Houston posts, you can click here.
Let me know how it goes!